2017
Representing Maine at the Eastern States Exposition
Visit from the Governor of Maine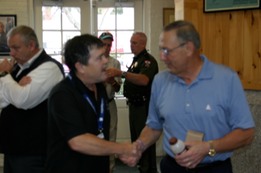 2016
Multiple commissions for The North Face
2014
Maine Crafts Association
Members Exhibition
University of Southern Maine, Lewiston-Auburn 
Jan 17- March 15, 2014
2013
"In Script development"
with Exodus Film Group
2012
Press Release
Movie About Mt. Everest Environmental  Artist in the Works (Exclusive)5:51 PM PDT 5/9/2012 by Borys Kit - 
Getty Images
Jeff Clapp will be the subject of "The Bell Man of Everest," about the art he created from discarded oxygen tanks on the famed mountain.
Producer John Eraklis of Exodus Entertainment and Jane Fleming and Mark Ordesky's Amber Entertainment are teaming up to tell the story of environmental artist Jeff Clapp with The Bell Man of Everest.
Clapp was a small-town cook whose life changed after he watched a National Geographic documentary about the hundreds of discarded oxygen cylinders left by climbers on Mount Everest. He bought a ticket to Nepal and, facing considerable odds, began collecting the oxygen tanks and cleaning up Everest in the process. He returned home to transform the tanks into environmental art, with pieces now sitting in museums and galleries around the world.
Eraklis acquired the life rights to Clapp's story and brought them to Amber Entertainment. No writer is on board yet.
Amber is one the companies behind Lovely Molly, the new horror movie from Blair Witch Project co-creator Eduardo Sanchez, which opens May 18. The producers have re-teamed with Sanchez and his Haxan Films banner for Exists, a found-footage movie on Bigfoot that is currently filming. The company is in post on the Nicolas Cage thriller The Frozen Ground.
Eraklis' Exodus began life as a special effects services company but Eraklis steered the company to finance, develop and produce features, making its debut with Igor, the 2008 animated feature voice-starring John Cusack.
Email: Borys.Kit@thr.com
Twitter: @Borys_Kit
Himalayan Stove Project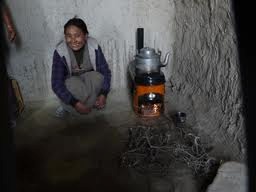 http://himalayanstoveproject.org/

Bells From Everest - supports the Himalayan Stove Project 
"Changing the world one stove at a time."   
Promoting cleaner air and a healthier environment with an efficient stove.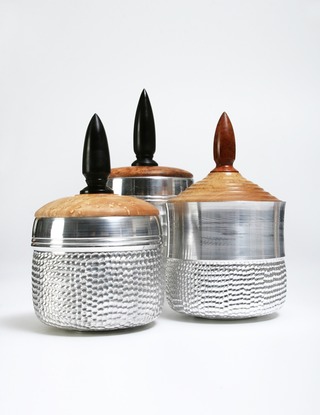 2010 Neiman Marcus InCircle Catalog                                                    
        We are excitied to partner again with the Neiman Marcus InCircle catalog.
 I created this unique set of lidded bowls for the discerning Neiman Marcus patron.  They are inspired by antique rice measures I found on my travels in Nepal. A fantastic set of bowls created from oxygen cylinders recovered from the top of the world, Mount Everest.
Walt Disney World
We have taken trash from Mount Everest and inspired others to follow suit. I was a guest artist at Disney Worlds "Expedition Everest" in 2007 and 2008 inspiring the kids to, "Use their imaginations."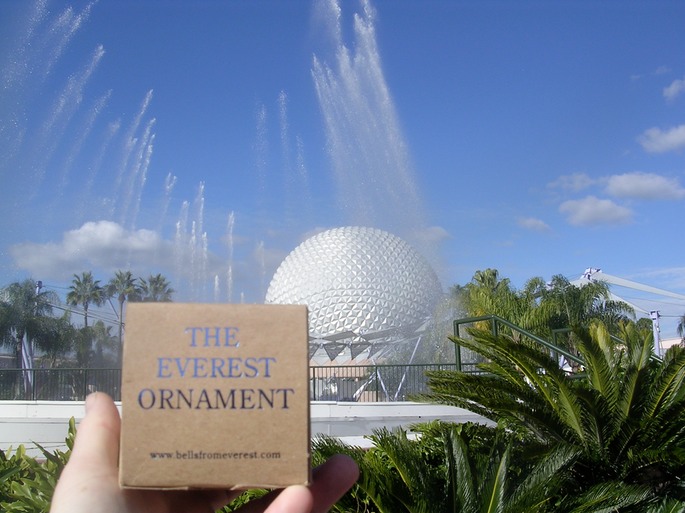 The Everest Ornaments make it!
Messner Mountain Museum 2009

 World's greatest mountaineer Reinhold Messner commisons sculpture for MMM.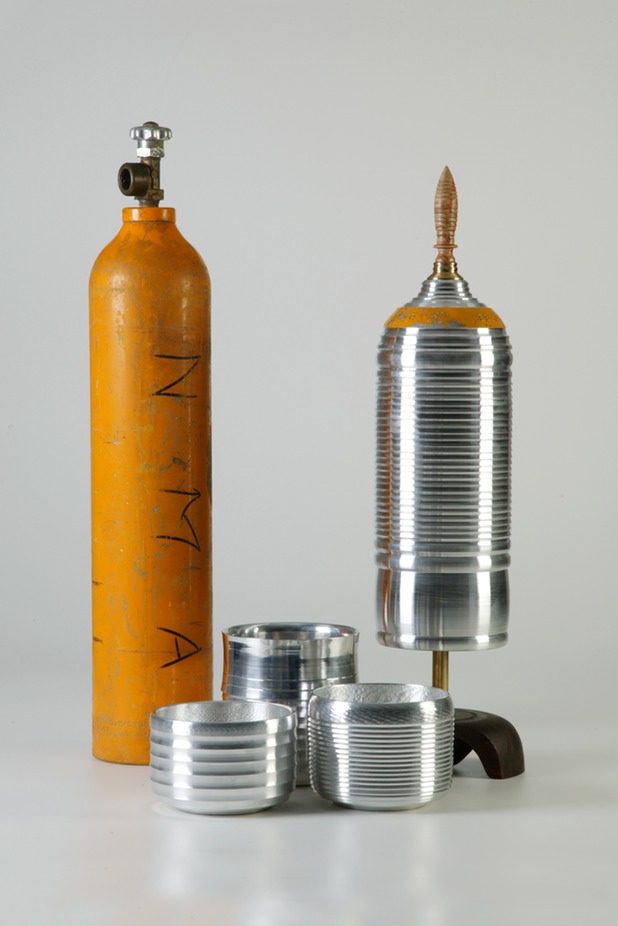 On display in Firmian, Italy.

2008 National Geographic TOGA Awards 

We were honored to be one of three finals in the 2008 National Geographic TOGA Awards. Patagonia and The North Face were the other two finalist. We were in good company .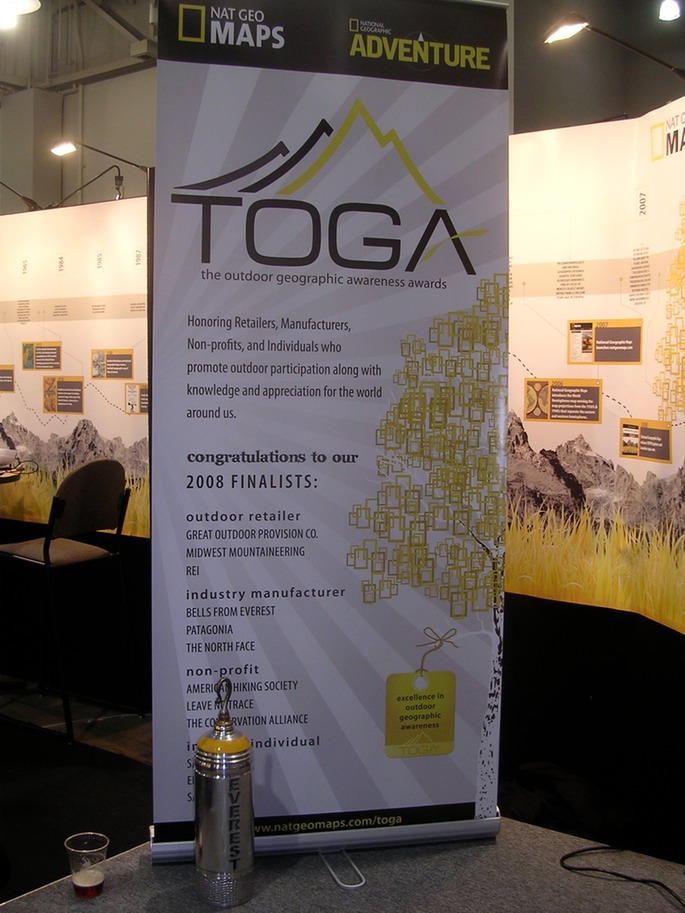 2006 Portland Magazine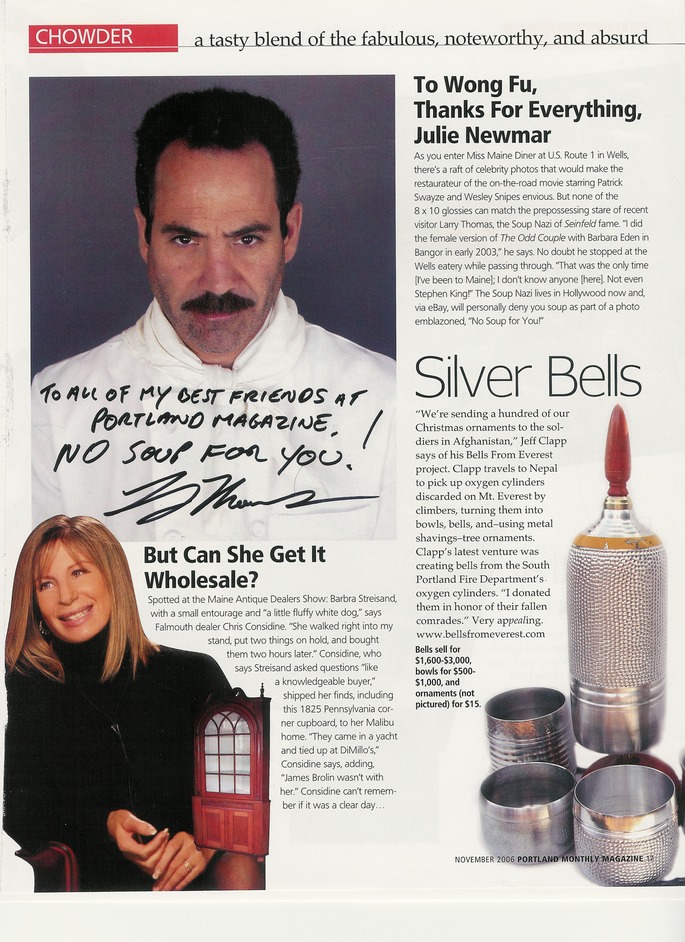 Barbara Streisand, The Julie Newmar & Bells From Everest, WOW!