....
Meet Maine Artisan Jeff Clapp, the creator of Bells From Everest and The Everest Ornament.
 A few years ago I had this great idea. I was watching a National Geographic about Mount Everest and the trash left by mountaineers on top of the world. I was shocked and delighted - shocked by the thought of people trashing such a beautiful place and delighted because I could help clean up that mess and create something beautiful and unique from those oxygen cylinders if recovered from  
Mount Everest. 
What I didn't realize was how much this "Great idea" would change my life.

Here is what all the fuss was about. Hundreds of old discarded oxygen cylinder which once littered the top of the world. Imagine a mountaineer struggling to reach their goal. Every step an effort and only an oxygen cylinder on you your back to help you along the way. Unfortunately they were then discarding these along the way.  What was once a negative has been turned into unique pieces of art with a fantastic history. I have literally turning trash into treasures! Here are the cylinders I recovered from Nepal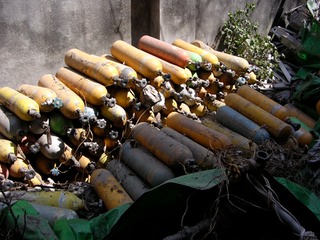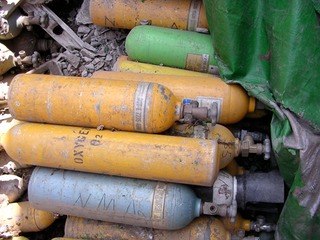 This image below was taken by Mountaineer Ed Viesturs and is on display to the American Alpine Museum.
Images like these inspired me to change my life and try and do something important.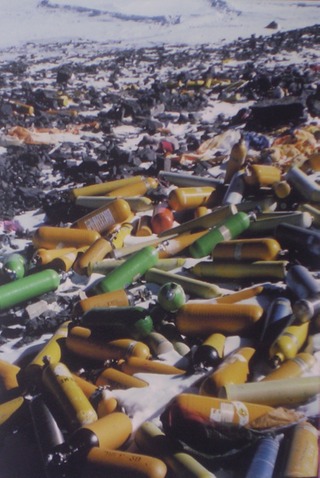 "Bells From Everest is an example of how mountaineers can improve environmental sustainability and micro activities-in the global context- can have an impact"
Mike Mortimer -  President of the UIAA International  Mountaineering and Climbing Federation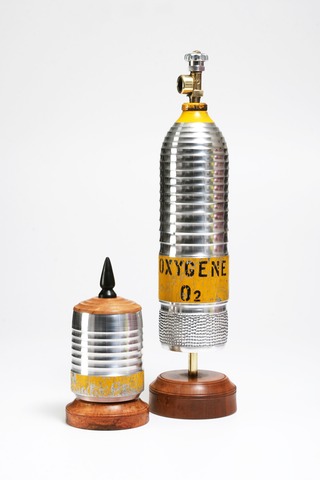 When I was three my family moved to Saudi Arabia.  My father was a teacher for the American children of Aramco Oil employees.  Living overseas taught me a lot about other countries and cultures. People in other countries rarely throw anything away.  When I saw those cylinders on the top of the world I knew they would still be somewhere in Nepal - built into a wall as blocks or piled in a corner, waiting for some crazy artist with more imagination than sense to come get them.  I turned out to be that man.
Today, I'm a metal turner, sculptor and environmental speaker. I make bells, bowls and inspirational art from those oxygen cylinders recovered from the top of the world, Mount Everest - this has been an amazing adventure.  With the help of my wife, Wendy, we have developed a unique business with a voice for sustainability in the world. "Never let anything useful go to waste."

We hope our efforts are contributing to world clean-up in a small but significant way. We have supported the Nepal Mountaineering Association (NMA) in their ongoing efforts with the Eco Everest Expeditions. In 2009 we gave a bell to the NMA in appreciation for their continued efforts cleaning up the mountains and for focusing world attention on the global effect of melting glaciers and climate change. 
 I'm excited when I get up in the morning. At Bells From Everest we're building a platform for some of the key issues of the new century, including the mystery and sacredness of our last remaining wildernesses, making fair exchanges with our neighbors in the third world, promoting world clean-up for a healthier environment, the age-old importance of art and handiwork (technology on a human scale), and the small is beautiful challenge of doing it all at a fair profit.